Kiyosato Museum of Photographic Arts
| | |
| --- | --- |
| Address | 3545-1222 Kiyosato, Takane-cho, Hokuto-shi Yamanashi 407-0301, Japan |
| Tel | +81-551-48-5599 |
| Contact | Contact us |
Exhibition for March – May , 2023
| | |
| --- | --- |
| Closed during Winter | until March 17 |
| Next Exhibition | March 18 – May 28 |
| Opening Hours | 10:00 – 18:00 (Admission until 17:30) |
| Closed | Tuesdays except for March 21 and May 2 |
Admission
General Admission
800yen (600yen)

*

University Students
(with valid ID)
600yen (400yen)

*


No charge for high school, junior high, primary school students or preschoolers
*Special rates in parentheses apply for groups of 20 or more, reservations only.
Physically challenged visitors (each with one attendant) may enter free of charge.
*In an effort to prevent and minimize the spread of the COVID-19, we do not accept groups of 20 or more at this time.
Route
| | |
| --- | --- |
| By car | Chuo Expressway, 20 minutes from Sutama Exit. |
| By train | JR Chuo Line to Kobuchizawa Station, and transfer to JR Koumi Line to Kiyosato Station; 10 minutes by taxi from Kiyosato Station. |
| Parking | Free parking spaces are available for 45 cars and 6 buses. |
The entire museum building is fully wheelchair accessible. A wheelchair is available free of charge.
A changing table is available beside the ladies room. There is no dedicated nursing room, but please ask a Museum staff member for assistance.
Message from the Director
On the Opening of Kiyosato Museum of Photographic Arts
Eikoh Hosoe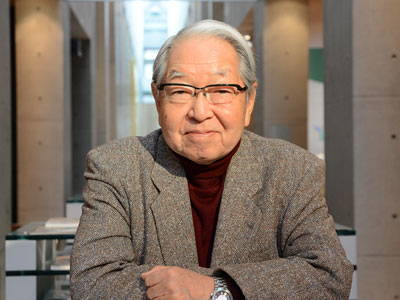 Kiyosato Museum of Photographic Arts (KMoPA) opened on July 9, 1995 amid the green hills and fresh air of Kiyosato in Yamanashi Prefecture. We wish to transmit our love and respect for photography from here to people throughout Japan and around the world.
In the past, Kiyosato used to be a center for silk production, with vast acres of mulberry fields to provide food for silkworms. The cocoons, which yield the silk, protect the pupas until they mature into moths and fly away and like these cocoons, our museum aims to provide a warm and protective home for photographs that are imbued with life.
In place of a welcoming message, I would like to explain some of KMoPA's special features as I believe it is quite different from other museums of photography in several ways.
1. Affirmation of Life
In setting up this museum, we adopted what we call the principle of "affirmation of life" and in order to put this into practice, we formulated three basic policies.
We offer a place to exhibit all works that celebrate a boundless sympathy with all forms of life. These include objective documentaries as well as forms of expression that emphasize the photographer's inner subjectivity. Subjects range from human beings to nature in all of its aspects. Regardless of the type of subject and technique, and whether the medium is silver chloride or electronic, we open our doors to photographs that express a love of life.
Collection of Twentieth-Century and Contemporary Works
We collect works produced in the twentieth century and onwards, taking the year 1900 as our starting point. Adhering to our principle of the "affirmation of life," we concentrate on promoting museum activities and as a result our criteria for collection will not necessarily conform to historical evaluation or classification.
Although we respect the history of photographic expression, which spans over 150 years, we will restrict our collection of nineteenth-century photography ? with the exception of platinum prints ? to works needed to provide a historical commentary on changing techniques.
We open our doors to photographs from Japan and around the globe. Photography and photographic history textbooks edited in the West have tended to concentrate on Western European and North American works, but we would like to broaden our horizons to include the diverse photographic expressions of East and Southeast Asia, Australia, New Zealand, India, and their neighboring countries, as well as Central Asia, the Middle East, Eastern Europe, Russia and other countries from the former Soviet Union, Scandinavia, Latin America, and Africa.
2. Eternal Platinum Prints
As our second policy, we collect classic and contemporary platinum prints produced in Japan and other countries.
Platinum is a precious metal in which there resides a mysterious elegance. Resistant to the onslaughts of time and the elements, it does not readily produce a chemical reaction. The technique of platinum prints was first developed in Britain in 1859, but it took another 20 years before it was commercialized. Officially unveiled in 1879, its characteristic richness of tone, elegant hues, and long-lasting prints appealed to serious photographers of the period.
During the First World War, platinum became a strategic military resource in Europe and its use in jewelry and photography was restricted. This coincided with the greater availability of the cheap, mass-produced silver gelatin printing paper in general use today. Platinum prints thus became a thing of the past.
In the 1970s, a group of U.S. photographers revived the technique and saved platinum prints from obscurity by introducing a contemporary style to the technique.
We first focused on the inimitable elegance and beauty of platinum prints, then realized its advantage in long-term storage. Photographic science and technology have made dramatic progress, and will continue to change and develop.
Our interest does not lie solely in new technology and techniques. We are striving to revive, reevaluate pass on, and develop valuable techniques of expression that have survived the test of time, yet run the risk of being forgotten.
3. Photographs by the Next Generation: Young Portfolio
As our third policy, we look for young photography enthusiasts, buy their works, and preserve these for posterity as part of our permanent collection.
In all fields of art, works that attempt to transcend the age in which they are produced have always been criticized, ignored, or rejected. Even today, many museums collect only works by artists with established reputations. Yet surely it is the works of young people, who have yet to make a name for themselves and who struggle in the process of artistic fulfillment, that are our future asset, possessing the power to pioneer a new age.
We decided to encourage these young people by collecting their works. Any photographer under the age of 35, amateur or professional, may submit work for selection, which is carried out once a year. Basically, there are no qualifications for applicants, regardless of nationality and gender, and works may be either published or not. We have great expectations regarding the courage and enthusiasm of young photographers.
Finally, the museum not only collects and exhibits the photographs, but also preserves them to pass on to future generations. It is only a small museum, but we consider the execution of this role to be one of the fundamental objectives of the museum.
We want to share the rich expansion of expression that is inherent in photography as we move towards the future. The Kiyosato Museum of Photographic Arts is a living museum that exists for the sake of both the photographs and photographers.
The museum hopes that people will become familiar with the worlds captured by the photographers through their creative works. In order to promote this, in addition to exhibitions, we also carry out a wide range of activities, including workshops and creative events, as well as traveling exhibitions, both domestically and overseas, to transmit the attraction of photography both locally and throughout the world. We look forward to your visit to the museum.